Free Drumline Warmups & Free Drumline Cadences!
Use these free drumline warm-ups, exercises, and music with your group!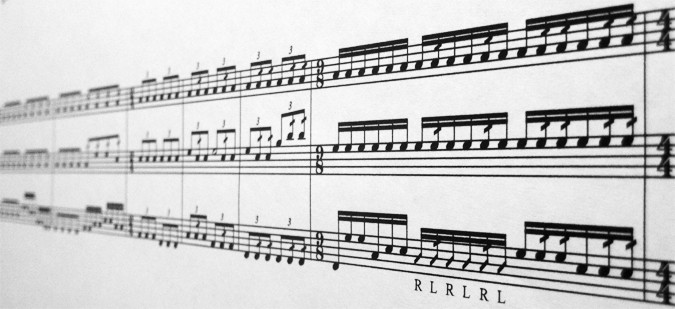 🔔 Patrick R. F. Blakley is DrumlineWarmups.com – Here are the free drumline warmups and free drumline cadences you've been looking for! These creative and fun drumline exercises, sheet music, snare warmups, songs, music, drumline cadences, and street beats are composed for all skill levels (elementary, beginner, intermediate, and advanced) and even include audio examples! Download the PDF and use these exercises with your group at no cost, nothing, nada, zilch, etc! Each warmup and exercise builds upon the previous one and they're great learning tools to progress through and develop your skills and technique. Even the easy drumline music is a great workout for the hands as well as the mind to build physical chops as well as mental chops too! This is an entirely free drumline warmup routine and exercise program! New warmups and drumline cadences are added fairly often. Be sure to check out this outstanding free drumline music resource!
Below are each of the free drumline warmups, exercises, drumline cadences, and street beats divided into three separate skill levels which let you find the right amount of difficulty for the application you need. This will improve percussion performance and confidence! Also included is an on-field warmup to prepare for the marching band show or indoor competition. There's even a warmdown that slowly loosens your muscles at the end of a long day! This music is based on history and tradition as well as modern drumming styles that create the best of both percussive worlds! Some of the drumline warmups are even compatible with the pit warmups as well (as noted below). If you're short on time and need to warm up the entire percussion ensemble at once, you have all the necessary tools right here for free! Whether you're looking for snare warmups, drumline exercises, or a pre-built percussion instructional packet, we got you covered! Print them out and use each of these free drumline warmups with your group!
▶️   You'll also be eligible for a free drum book giveaway each quarter called The Quarterly Note!   ◀️

---
6. Double-Action (Multiples):
7. Para Para (Paradiddles):
8. Roll Program (Rolls):
9. Flåm Norway (Flams):
(Compatible with pit Flåm Norway)
10. Hybrid Drumline Warmups:
11. On-Field:
12. Warmdown:
(Compatible with pit Sixteenths)
You know what goes great with playing snare drum rudiments?
Wearing them!
Check out the drumline apparel section for tons of great shirts and accessories to wear to your next rehearsal. From things the whole band will understand, to things that only the drummers will understand, and even things straight out of snare warmups that nobody may understand!
Below are some more drumline warmup and music resources you should get!
Drumline warm-up side note:
Is the word "drumline warm ups" supposed to be one word or two? Originally, the correct spelling of the word uses a hyphen, as such "drumline warm-ups" was the most accepted spelling of the word. However, today most writers are skipping the hyphen as you'll see throughout this page as the word is used by pushing the individual words together. So to answer the question, there is really no wrong way to spell it, although using two completely separate words seems to be out, "drumline warm ups." Instead, both "drumline warm-ups" and "warmups" are interchangeable!
Other drum books by Patrick R. F. Blakley:
Drummy Drum, Drummond Novel,  Quadratics, User Manual, Info Packet, Drumline Exercises, Pit Warmups, Drumset Warmups, and Articles.