New Free Drum Cadences, Free Drumline Street Beats, & Free Drumline Cadences!
Download and use these free cadences with your group!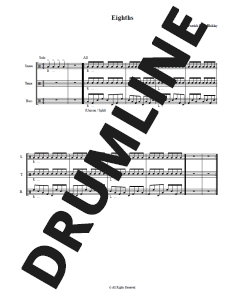 In the spirit of more free drumline music, we've just added three new free drumline cadences, drumline street beats, and drum cadences for drummers at all ability levels. From beginner to advanced, that's a total of nine drum cadences added for you for free! Check out the free drumline exercise and music page to download them.
With four main drum cadences included for free on the drumline warmups page, as well as in the pre-built instructional packet, that makes 85 free marching percussion warmups and exercises altogether. 98 if you include the free drumset exercises as well! Wow, that's a lot of free drum music! But if you ever feel like you need more, don't hesitate to make a request here too. Let's dive into the drum cadences on this site and see what will work best for your ensemble.
Yellow Lines drumline street beat. This is the simplest cadence that was written with beginning drummers in mind. This sheet music, like the others, is divided into three skill levels of drumming but overall the difficulty is low, even for the advanced version. This street beat explores some simple metric modulations, press rolls, straight-forward accent patterns and shaping, and some basic syncopated rhythms to march over. This one is shorter which means the drumline will probably end up playing it multiple times in a row (which will be good for them to have many repetitions). It's also fun to play! There are a bunch of snare rim shots, tenor simple but still interesting around patterns, and a nice bass drum groove at measure 14 that they'll enjoy playing. This is also enjoyable for the audience to hear while you keep time for the band. For the band, this street beat is also pretty easy to march along with since there are no surprises with time signatures or rhythms. Check out Yellow Lines if you're group is young or new to drumming!
Pretzel Coat drumline cadence. This next cadence is also fairly simple but does explore a little bit more advanced elements that are introduced sporadically. Overall this cadence is rated as a low-medium level for the beginner, intermediate, and advanced players at that general ability level. The step up from the previous drumline street beat is the diddles and rhythm choices primarily. Syncopation is a little more challenging in parts and the accent patterns and shaping are more musical. There's a nice loud section that the performers will enjoy and should get the crowd's attention too! The repeated phrase make this cadence a bit longer than the previous one and you'll still probably find yourself playing this twice in a row for parades. A roll-off has also been added to the end for parades where the band needs to be signaled to begin the show tune. Check out Pretzel Coat as another fun drumline cadence!
Escape Goat drum cadence. We've moved into the next level overall. The average difficulty of these three cadences is about a medium. If you have a drumline that's a little more experienced this might be the street beat for you. It's only a little more involved than the previous one, adding quicker diddles, modulations, flam passages, and syncopated rhythms in modest doses. It also goes over the barline for a couple of phrase endings which adds interest and hides the straight time signature. Marching to this one is still fairly normal provided the band understands where the barlines fall. This drumline street beat is also a little longer still, utilizing two repeated groove phrases that the performers should enjoy. Once again we find a roll-off at the end signaled by the center snare's rimshot cue. Escape Goat is a nice middle-of-the-road drumline cadence (see what I did there?) Enjoy!
Osciller drumline cadence. This is a throwback drumline street beat that has been given a fresh take! Of the four main cadences, this one is the highest level of difficulty. The beginner and advanced versions maybe have the biggest divide in terms of ability level, you may be interested in trying this cadence if you have an experienced or veteran drumline. You may even decide to push your ensemble with a challenge using the beginner version of this cadence and might be pleasantly surprised. This is a fun street beat and often times performers will gravitate to practicing what they enjoy playing themselves. Osciller adds harder diddle and flam passages, bass drum split parts, tenor drum choices and patters, and of course it's much longer than the others. The grooves are more fun to play and longer lasting for the audience and it gets loud forever at the end! What's not to like?! The silence at the end might be tricky to march to for the band, but that will come with time once they understand how it works. Again, that may be part of the decision-making process in choosing to use this cadence or not. The best part about this cadence is that even the advanced version is realistic in terms of playability, we're not trying to displace triplets over a barline or anything! With a decent drumline and some practice this cadence, and all the free drumline warmups on this website, are very doable even at the advanced level! So check out Osciller for your next drumline street beat!
Well, that about does it for now. Four full free drumline cadences and 12 different versions for every possible ability level! There's always more where that came from though, so be sure to bookmark this site, or better yet, subscribe to email updates for newly added content! You can even request free warmups for future updates! Feel free to contact me with any questions that might come up, I hope there are no typos in the sheet music, but if there is I'd love to get it corrected! Thanks to everyone for checking out my material and using it with your group or just playing it at home! Can't wait to write some more, so keep an eye out for some additional drumline cadences in the future!