Free Drumline Warmups, Pit Exercises, and Drumset Music!
Download all of this percussion music and use it with your ensemble for free!

Patrick R. F. Blakley is DrumlineWarmups.com and FreeDrumlineWarmups.com
Free drumline warmups, pit exercises, and drumset music for you or your ensemble! Each piece of music is divided into specific abilities that cover elementary, beginner, intermediate, and advanced levels. Many marching percussion exercises can be played with both drumline and pit together to develop a more cohesive ensemble and efficient warmup session! Use these drumline warmups, pit exercises, and drumset music for free with your ensemble! Perfect for marching band, drum corps, or WGI percussion!
▶️ You'll also be eligible for a free book giveaway each quarter called The Quarterly Note! ◀️
These free drumline warmups and exercises can also be found in the Information Packet! Get the whole learning packet complete with every exercise, skill level, and much more! These drumline warmups have been fine-tuned over years of rehearsals.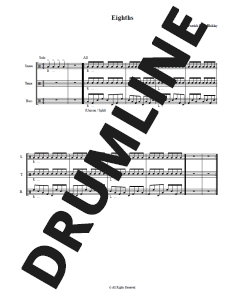 ---
The free pit exercises are developed for the specific needs of the mallet player and are designed to build chops and capabilities behind the melodic instruments. Timpani players can even use these to understand how they fit into a pit warmup routine.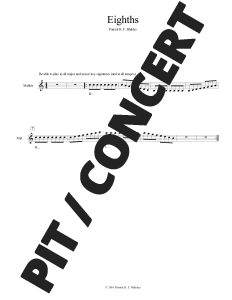 ---
The free drumset warmups will walk you through a routine that gradually builds across each page. These free drumset exercises will include rock grooves, embellishments, foot double-strokes, and fills, among many others at various ability levels!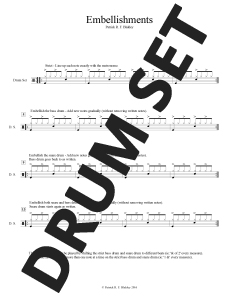 ---
The pit and drumline warmup packet includes all the percussion warmups, exercises, cadence, and street beat above as well as added information exclusive to the packet! In addition, there is are explanations for everything you'd want to know before joining a drumline, from overarching ideals to techniques! You can pay what you want for the digital drumline warmup packet or you can purchase a physical copy online! (Don't worry pit percussionists, this also includes all of the pit warmups, exercises, and songs too!) Instructors, use this with your ensemble!
Other publications by Patrick R. F. Blakley:
Drummy Drum, Drummond Novel, Quadratics, User Manual, Drum Packet, Free Drumline Warmups, Pit Warmups, Drumset Warmups, and Articles.
WGIpercussion.com refers to percussion music and design that can be used at WGI contests and is not affiliated with Winterguard International