Free to use warmups, exercises, and more for your drumline, pit or front ensemble, and even for yourself on drumset! Each piece of music is divided into specific ability levels with usually two or three options. Many exercises can be played with both drumline and pit together to create a cohesive warmup environment.
Get an email alert when new warmups are added, or request warmup ideas for the future! Click here!
.
Free Warmups, Exercises, and More for Drumline, Front Ensemble, and Drum Set!
.
.
These drumline warmups and exercises can also be found in the Drumline Information Packet available for download! Get the whole learning packet complete with every exercise and skill level! These exercises have been fine tuned over years of rehearsals.
.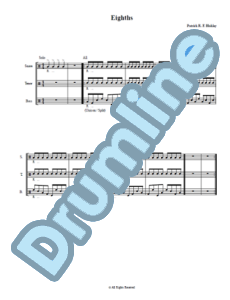 .
---
.
.
Pit, or Front Ensemble, exercises are developed for the specific needs of the mallet player. Written to build chops and abilities behind the melodic instruments. Timpani players can even use these to understand how they fit into a pit warmup routine.
.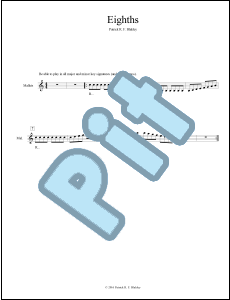 .
---
.
.
The drumset warmups will walk you through a good routine that gradually builds across each page. The exercises are arranged for a generic style and will include rock grooves embellishments, feet double-strokes, fills, among many other standard building blocks.
.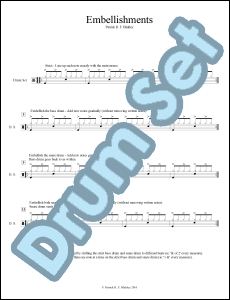 .
---
.
Choose your category of warmups and exercises above.
.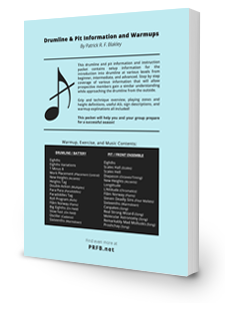 Get these warmups with the Drumline & Pit Information Packet!
The Drumline & Pit Information Packet includes all the warmups, exercises, cadence and street beat below as well as the on-field warmup and warmdown. In addition there is a long explanation of everything you'd want to know before joining a drumline, from overarching ideals to techniques! You can pay what you want for the digital Drumline Information Packet or you can purchase a physical copy at many online retailers! (Don't worry pit percussionists, this also includes all of the pit warmups, exercises, and songs too!) Use this with your ensemble!
.
Other publication pages: Quadratics, User Manual, Drummy Drum, Info Packet, Drumline Warmups, Pit Warmups, Drumset Warmups, and Articles.
Share