Percussion Studio Drum Lessons in Syracuse for all skill levels!
Learn drumset, marching percussion, mallets, rhythm notation, and more!

🔔 Patrick R. F. Blakley is SyracuseDrums.com, and CNYdrums.com – Get drum lessons in Syracuse, New York! If you're looking to fine-tune your craft, or even just want to learn to play a groove, Syracuse drum lessons can help!  Drum lessons in Syracuse for any ability level or age! These Syracuse drum lessons are available for all percussionists and non-percussionists alike. The very best way to learn something is one on one with a professional, especially something with as many nuances as drumming. Information is tailored 100% for you and your unique needs. Drumline lessons, pit lessons, drum set lessons, and more are all available by signing up here!

Complete the above drum lesson sign-up form and view the pricing information for a quick and easy onboarding. Parents, feel free to stay or just drop off students as you please. The studio offers a comfortable couch to watch during the lessons, or there are plenty of close shops nearby if you want to come back later. A flexible schedule means you can learn drums at your own speed. Want to just do a single lesson? You got it! Need to prep for a solo fest, concert, or competition? Let's do a bunch of lessons! You're in charge, just let me know your drum lesson goal and we'll get you there together! So come on over Syracuse, let's drum!
---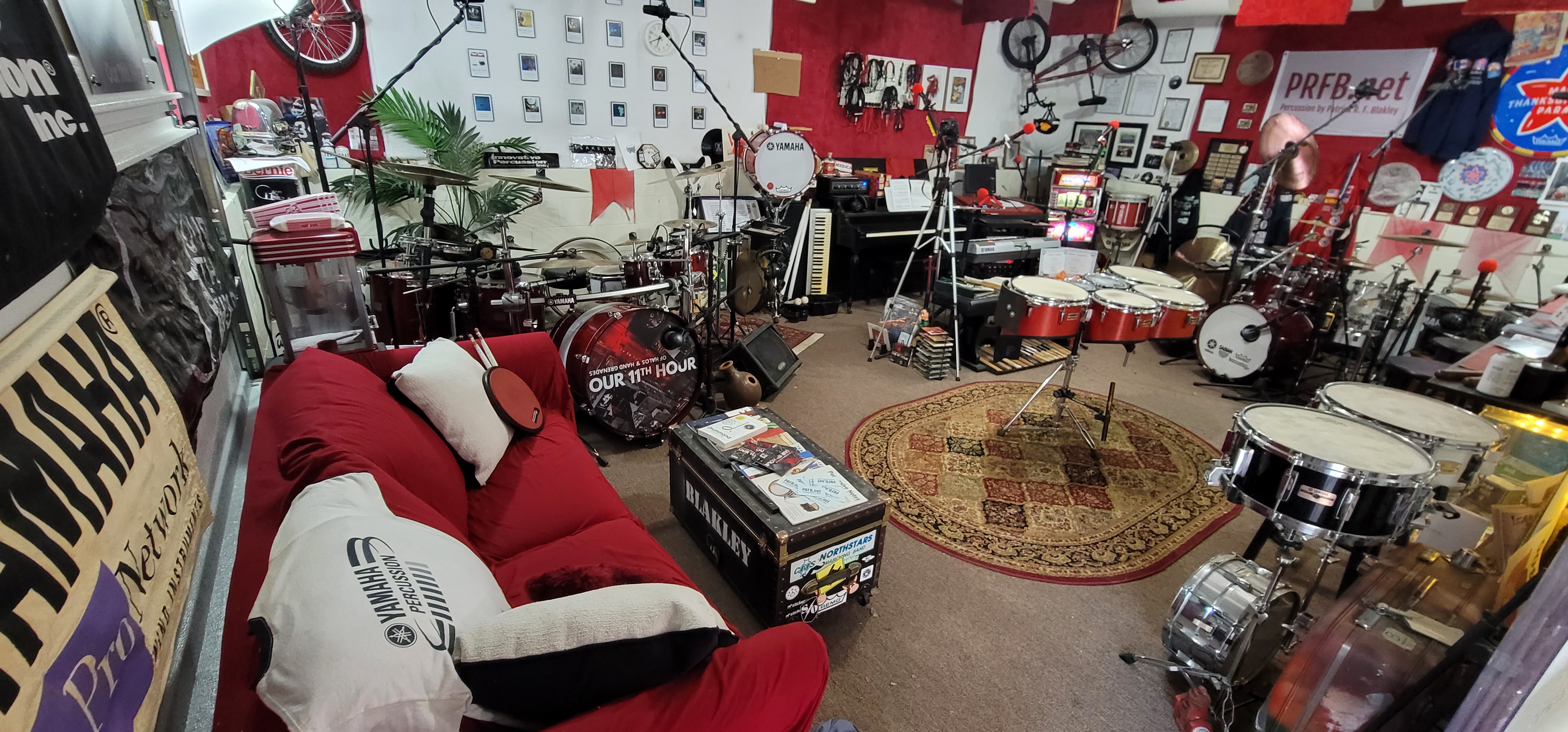 Why choose SyracuseDrums for your Syracuse drum lessons?
Taking drum lessons in Syracuse comes with many choices. The Syracuse drum lessons percussion studio offers a huge variety of percussion instrumentation from concert drums, marching drums, drum sets, and mallets! A full list of equipment is available here. Marching percussion includes snare drum, tenor drums, bass drum, cymbals, and mallets. Concert percussion includes snare drum, tom toms, bass drum, mallets, and accessories such as bongos, clave, guiro, djembe, suspended cymbal, udu, talking drum, tabla, gong, tambourine, maracas, even spoons! The studio also features two drumsets that are set up for various styles, see below for all the drumset lesson styles offered. If you're interested in learning things like rhythm notation or composition we can discuss that too. Is anything missing that you need? SyracuseDrums has you covered! Just let me know using this contact link!
---
Get the most of out your drum lessons in Syracuse!
If you're looking for the best drum lessons in Syracuse you've found it! SyracuseDrums has two full-size drum sets in the studio which makes learning a breeze since you're able to hear examples in real time while learning! Playing together while learning makes it more enjoyable and speeds up the learning process altogether. Students will be able to hear examples of exercises while being told how to approach them. This lesson format increases the rate of learning for the student considerably. Check out the studio setups here. And if you're just starting out, don't be intimidated, we'll focus on your level and make it fun because that's what drumming is all about!
Below are the major areas of my expertise with 30+ years of experience as a musician teaching drum lessons in Syracuse, as a New York State Field Band Conference music judge, and as a certified percussion judge for Winterguard International. Looking for something else? Click here and let me know! These lessons will be totally customized to you and your schedule!
---
Prepare for the marching band or indoor percussion seasons!
If your school's marching band season is underway or the indoor percussion music just dropped, we can get you up to speed ahead of the pack! Are you auditioning for a new spot this year? Set up some early lessons to help stand out from the crowd and ensure your best chances! Marching snare drum lessons, marching tenor drum lessons, and marching bass drum lessons are our specialties. Bring your warmups, exercises, and sheet music so we can make notes and polish any tricky spots, we can even work on memorization.
Take a look at the marching publications available on this site that can also help prepare you for any marching activity. Quadratics: The tenor drum equation, The Field Percussion User Manual, and The Drumline & Pit Information Packet. You should also check out the free drumline warmups, the free pit warmups, and the free drumset exercises.
---
Drum Lessons in Syracuse for any ability level
Syracuse drum lesson instrumentation at a glance:
Drum sets
, concert snare drums, marching snare drums, tom toms, marching tenor drums (quads/quints/sextets), concert bass drum, marching bass drum, suspended cymbals, crash cymbals (concert and marching), marimba, bells/glockenspiel, piano, gong, bongos, castanets, maracas, guiro, triangle, clave, djembe, congas, tambourine, break drum, doumbek, talking drum, udu, tabla, rainstick, and even spoons!
See the detailed instrumentation list here.
---
Syracuse drum lessons and Central New York drum lessons
SyracuseDrums.com percussion studio is located in North Syracuse which is just a short drive from Downtown Syracuse, Liverpool, Baldwinsville, Brewerton, Cicero, Solvay, Geddes, Camillus, Phoenix, and Central Square.
---
View pricing and sign up here for drum lessons in Syracuse on your schedule:
You can learn on real drums in a real studio with a real teacher!
---
---
About the instructor:
My name is Patrick Blakley and I've been performing and teaching percussion for over 30 years. I'm currently a music judge for the New York State Field Band Conference and a certified percussion judge with Winterguard International. My exercise and warmup method book has been utilized by over 60 schools in 26 states across the country as well as 4 colleges, a DCI drum corps, and even by groups in the UK.
I've instructed privately and as a member of several local high school marching bands as a composer, designer, caption head, and director. All of my ensembles have gone on to win state championships while I was on staff! I specialize in teaching marching percussion, including snare drum, tenor drums, and bass drum, as well as drumset and concert percussion. I've also published two marching percussion instructional books as well a novel and children's book about marching band. My lessons are paced according to your goals, and I try to make everything fun! I look forward to drumming with you! Read my full bio here.
---
---
---
You know what goes great with learning drum rudiments?
Wearing them!
Check out the drum apparel and drum clothes section for tons of great drum shirts and accessories to wear to your next rehearsal. From things that the whole ensemble will understand, to things that only the drummers will understand, and even things that nobody might understand!
---
SyracuseDrums is a registered trademark. SyracuseDrums.com, SYRdrums.com, CuseDrums.com, CNYdrums.com, SyracuseDrumLessons.com,
and DrumLessonsInSyracuse.com are the property of PRFB.net Percussion & Pageantry Arts. All rights reserved. NY registered trademark 2023.
Other drumset pages: Private Lessons, Drumset Warmups, Studio Recording, Studio Setups, Equipments List, and Articles.