Marching band, drumline, and winterguard show concept design elements and audio examples!
The marching activity is a great artistic medium to tell a story. There is an intrinsic subtlety that balances nicely with the tradition of field band, percussive theater, and winterguard. Percussive theater is a unique form in which the characters manufacture the dialogue though percussion and requires an engaged audience. Winterguard characters have obvious challenges within the choreography and it's apparent, to even the uninformed, when something isn't exact. Field band allows for more detailed concepts but that can also make things more difficult.
Some of these concepts are full show designs while others can be used as individual productions or pieces of a whole show. You can pay what you want for the use of any concept or idea. You can also pay what you want for winterguard standard pre-made audio edits. If you'd like customized audio edits, drill, percussion composition, or consultation please use the contact form to discuss your needs.
With all of this in mind, the story and concept should be conveyed in a well thought-out and organized manner. It is also important to have the ability to adapt new ideas as well as musical changes throughout the evolution of the show.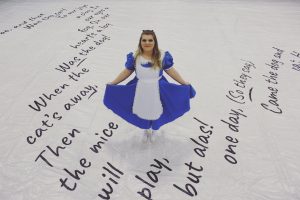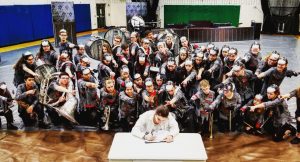 Below are links to full show designs and concepts for Winterguard, Percussive Theater and Field productions. Winterguard pre-edits are available for purchase for immediate download. Shows with previews are indicated by the ♫ icon. If you feel any of the descriptive show concepts are something you'd like to use for your ensemble, please just pay what you want for the idea!
Patrick's work can be heard across New York State as well as nationally in field circuits and WGI. You can hear several of Patrick's audio edits annually at the Dayton, Ohio WGI World Championship.
Potential Winterguard Tracks
For anyone looking to fit some music to a current concept that you already have, or for anyone just trying to brainstorm for a concept or some show music, check out the Spotify playlist on the right filled with potential Winterguard (and maybe even some Percussive Theater inspiration) tracks! The playlist is maintained by PatrickRFBlakley.com but feel free to use all of the tracks as I do not claim ownership of any of them. The tracks are completely unedited and most, if not all, will need to be edited and cropped to suit the confinements of a Winterguard show. Some tracks would be filler songs as they are far too short to support a full show, but these filler tracks can easily help solidify your concept. These are just brainstorming tools, though you can see concepts I've previously designed using some of the tracks in the above listings. This Spotify playlist is constantly being updated as new potentially applicable tracks are discovered, check back often for another brainstorming session!
If you do select any of the tracks listed above (concept designs or brainstorming tracks) and you're looking to have it edited and customized for your ensemble, please contact me for audio editing! We can discuss the regulations of your class and the needs of your group to produce the perfect audio file for your ensemble!
Other marching pages: Show Design, Composition, Drill Writing, Audio Editing, Consultation, Private Lessons, and Articles.