If you're brand new to drumline instruction and need a solid place to start you're ready for step number one – full drumline warmups and technique packet. Step one is deciding how to setup your drumline and create the best environment for their success. In order to complete this step you'll need a clearly defined technique outline and fundamental drumline warmups or exercises. This is something that every successful ensemble requires, not just in the marching percussion world but across all types of group activities. If you were to ignore this first step the result would be sloppy performances with less ability to clearly define and correct problems as well as a foggy understanding of the overall goal or assignments. Below is a ready-made packet of technique outlines, exercises, and drumline warmups for any battery at any skill level. The packet also includes a cadence and a warmdown for those of you who would like to go the extra mile!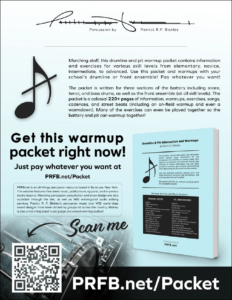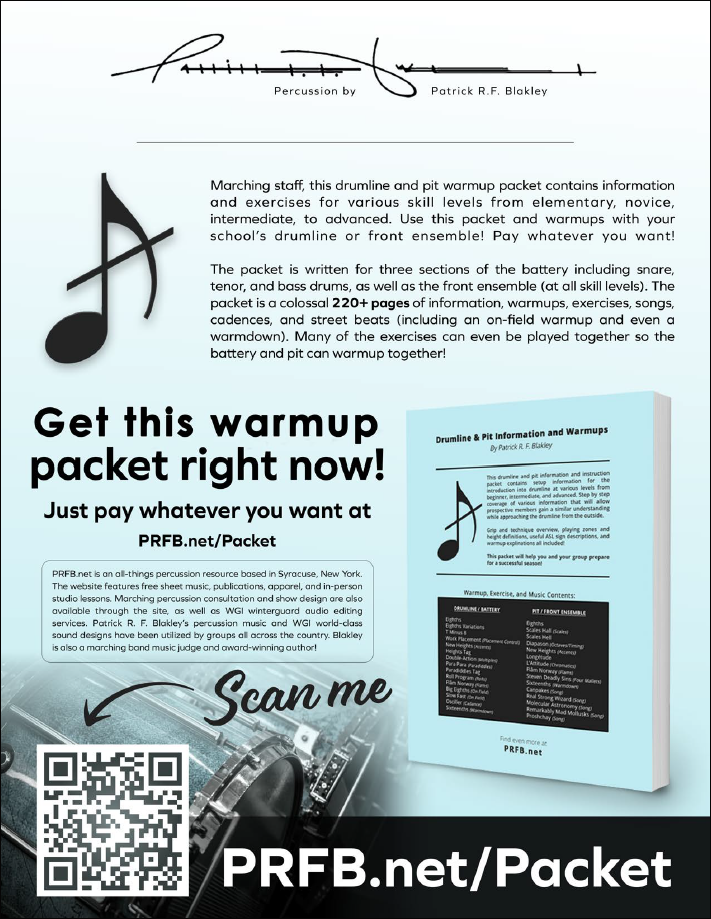 The technique section outlines posture and grip with visual examples of the American Style stick grips and explanations of playing zones, heights, dynamics, as well as sticks in and out (tacit or ready). The packet briefly explains handy ASL, American Sign Language, signs that will help you communicate over the loud drumming environment. These are easy to retain and understand signs that will naturally signal to your percussionists what you're communicating to them, complete with visual examples as well.
The exercise and warmup section comprises 30 drumline warmups, exercises, variations, and cadences designed for several different levels of musicians. Your battery will find success whether this is their first season performing together or they have played together for several years. Different difficulties are included in the packet to allow for this drastic contrast in playing ability ranging from basic middle school level or high school drumline warmups to DCI drumline warmups level. Audio examples of each musical page are also available at the drumline warmup page located here. Download them all at once or link your members here so they can play along as they learn! Many of these exercises are also available on the Diddles App found on the Apple Store for iOS devices. This app allows you to change tempos of each warmup and play along with individual sections of the drumline or as a full ensemble.

(You will be directed to a digital download link once the payment is processed.) 
A physical copy of this instructional packet is available on Amazon, Barnes & Noble, and Lulu, but a digital copy is available here by paying what you want! The packet is free to distribute and use with your drumline under the Creative Commons license provided that all credits and attributions remain unchanged. So if you're new to instructing or looking for something fresh please take advantage of this 63 page instructional packet that's filled to the brim with everything you and your drumline needs to be successful!