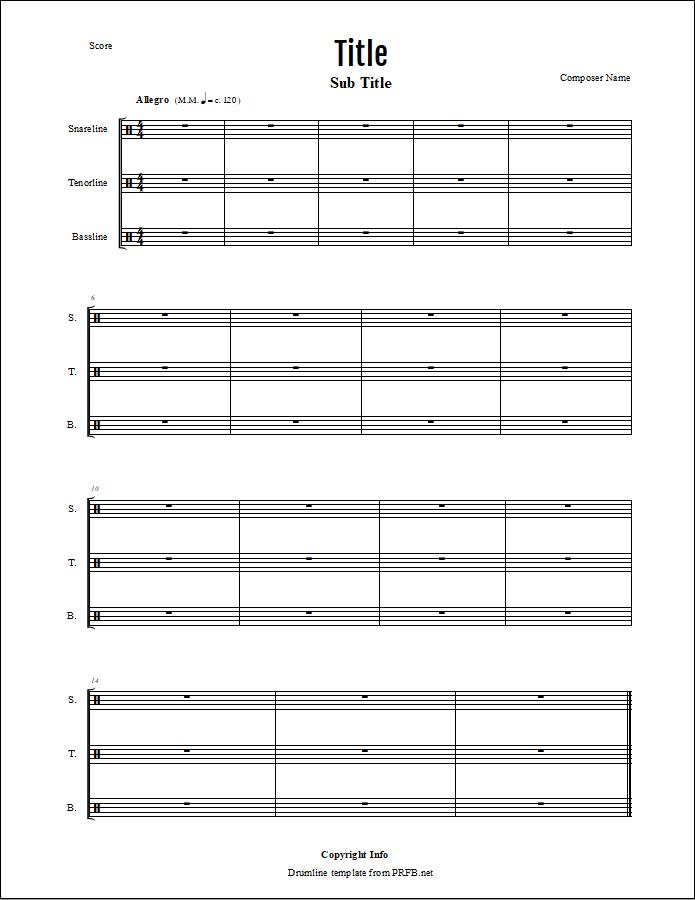 Before you start writing your own warmups, feel free to use my FREE drumline wamups and sheet music with you ensemble!
Makemusic's Finale software is incredibly in-depth and powerful, but sometimes you just want to get in and go create right away! Some of the settings and options can be tricky as well, so to alleviate that I created a ready-to-use template that is already set up as soon as you double-click it! So without further adieu – here are the Drumline Template files you'll need:
Download the Finale 2014 Template File!
Download the Finale 2012 Template File!
Save those bad boys to your computer and simply open them with Finale and the drumline template is ready to go! So many things are already in place for you to just get started. Changing the title and subtitle is as easy as clicking and typing; they are already placed by default. Choose "Score" in the top left or rename "Part" to whatever you choose. Then delete any text you don't need and all that's left to do is compose! Stems are already frozen 'up', flams will automatically be flagged, grace-note spacing is improved, lyrics are lowered out of the way as well as having smart-hyphens and word-extensions disabled. Note spacing is also optimized for noteheads, lyrics, grace-notes, among other things.
All of the most popular accents, diddles, noteheads, and more are cued at the top of the selection screen for your convenience. The tenor voice allows for six drums (with two being above the staff) and the bass drum voice allows for bass one being above the staff or bass five being below, not to mention the ability to wrote for six basses (with lyrics being moved out of the way of the lowest notes on the staff too). All sounds are also tied to all note options properly. Other, more minor, document options are setup for you so that you will have no worries when composing or arranging!
Makemusic Finale is the go-to program for composers and arrangers the world over. The possibilities are nearly endless with software as powerful as this. As you're composing and your desire to learn more about what this program can really do, take a look over at their website to further down the rabbit hole!
Happy composing! Feel free to contact me personally with any questions regarding this template or with Finale in general, I'll be happy to help anyone with the desire to learn more and open doors to a bigger musical world. Cheers!