Complete Marching Band Director Checklist for Field Band & Indoor Drumline
A checklist for drumline performers and staff while progressing through the season
---
This article is going to be about the steps to remember for a drumline or marching band director throughout the season.

If you're looking for a marching band or drumline shopping checklist we've got you covered too!
---
Hey, marching band director! If you've gone through the marching band or indoor drumline loop as a director before you already know this drumline checklist will help. If you've even started your own spreadsheet then you're on the right track! This article will highlight the biggest elements of the drumline's season for both marching band and indoor drumline / percussive theater. From the drumline warmups to hosting a show at your school, this checklist will keep you on the rails and hopefully reduce the stress level for everyone. Not only that, but this should all have a positive effect on your groups success as percussionists as well, especially since you can focus more time on the drumming and not the logistics!
The overall season checklist for a drumline or marching band director looks like this:
Choose a show theme/concept, write the music and warmups with staff, and discuss goals.
Send several reminders to potential members and hold opening meeting/auditions.
Establish a technique framework for the performers. And if you haven't yet, set the line!
Finalize the competition schedule and reserve buses. Work with boosters on trip itinerary.
Write the drill as your group's membership numbers become solid.
Full music ensemble rehearsals as soon as possible! Get this music memorized too!
Learn chunks of the drill and review the music on the move.
Get most of the show on the field, then push for more until complete.
Home show logistics!
Smart changes to the show, decide what's important and worthy of rehearsal time.
So let's break this checklist down into its component parts and walk ourselves through an entire season. Each of these checklist items has several secondary items and, beyond that, each circuit is different. Generally, this list will help you stay on track regardless of the small nuances of each state or national circuit. Some of these items will simply remind you of other things you need to remember that are unique to your school or ensemble. So let's take a look at the framework of what will create a successful season.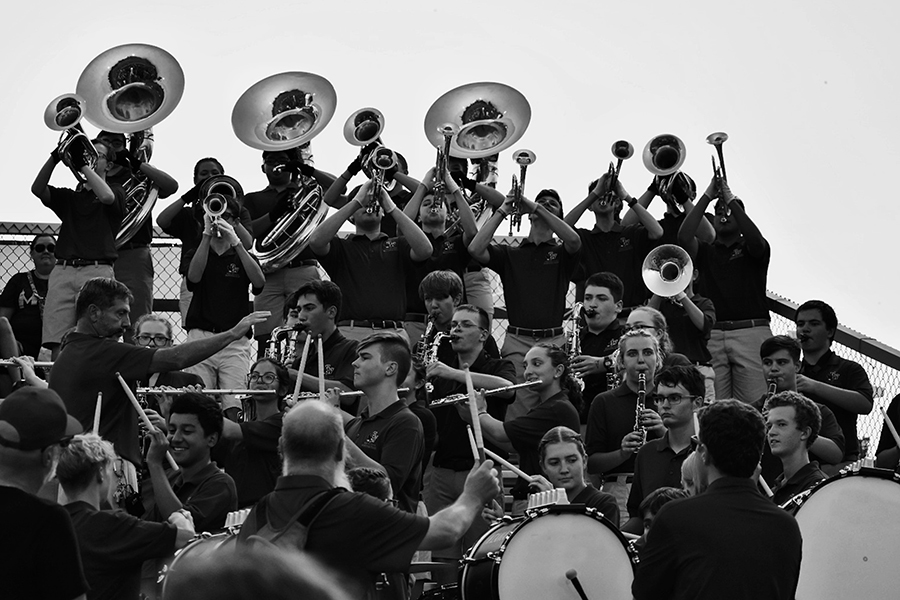 1. Choose a show theme or concept, write the music and warmups with staff, and discuss goals.
Watch the first step, it's a doozy! We've gotta get the whole season started! Your design team needs to work with you to choose a compelling show theme or concept that will be successful for your performers. If you've worked with this ensemble in the past you'll have a general idea of their capabilities overall, so push them a little bit more if possible and keep the momentum moving forward. If you're new to the ensemble you'll have to rely more on the staff to establish a benchmark of where the group's ability level sits. Sometimes a very specific show concept can be difficult to portray for a young ensemble, but with a veteran group you might want to do more than just a generic simple theme. Keep this in mind while discussing things at your staff meetings.
Once the show is decided you'll need to get the band and drumline music written (and warmups too). The music can be purchased online with pre-made shows available all over the web. Places like Box 6, Standing O, or MSconcepts are places I've worked with in the past that have been a good experience for my young groups. These shows can cost thousands of dollars, so be warned, but if you're confident in your abilities feel free to write the show yourself, or source it to your staff. Writing a show yourself can be tricky to navigate because not only does it need to make sense musically, but you also need to be able to communicate certain criteria to the judges through the music itself. This can be time-consuming but might be the smartest option if you know your group well.
Having to edit a pre-bought show isn't fun when you've paid a lot of money for it but still need to write music. This issue is predominant if your band is strong but the percussion is weak, or the opposite. Pre-written shows tend to have just a single difficulty rating, and that isn't broken down into individual sections. Some companies will re-write some of the music for you though, so keep that in mind! You should also keep in mind that something rated lower difficulty on a national level may still be fairly hard at a local circuit. If Jeff Queen is writing your drum book 'easy' for him is different than 'easy' for Bobby who joined because his friends are in your band. When considering show music (or writing your own) look through the judge's criteria and caption considerations for your circuit. You'll want to keep those in mind as your explore your show. By the way, if you need a pre-made percussion warmup packet I've got you covered!
Lastly, and probably the most important step, you need to discuss overall goals for the season. I have been on too many staffs over the years that just showed up to practice and just practiced then went home. I guess the goal was to be a marching band and boy did we achieve it! You'd be much better off with an overall set of goals for the season as well as a goal for each rehearsal. These goals don't need to be profound, just simply give direction and something that everyone can focus toward, students and staff alike. Season goals could be simple things like improving our pyramid of sound from last year, focusing more on feet timing to get everyone's feet exact, or fine-tuning the small things and trying to move up a class.
You could obviously set a goal of just winning, but at the end of the season winning is not the most important thing for your performers. Growth might instead be a better abstract goal. Setting goals for individual rehearsals is an even more concrete endeavor. Be able to play up to measure 51. Play the opener from memory by the end of practice. Get through a full run-through with the battery and pit. You could even add multiple goals and try to push to achieve your stretch goal. Perhaps the band knocked it out of the park and you have more time to review some extra comments from a judge or implement a change that might not have been started until next week! Write these goals on a big whiteboard for everyone at rehearsal to see, maybe alongside the schedule. (Oh yea, MAKE A SCHEDULE for each rehearsal!)
2. Send several reminders to potential members and hold opening meeting / auditions.
This one might be the easiest step of them all. Send out reminders, post fliers in the band room, get a message on the morning announcements at school, and hype the show at other fine arts rehearsals that are currently wrapping up. Here's an idea for recruiting: Send a personal letter in the mail to any musicians in the school that would be first-year eligible for your group. Tell them you selected them personally to join the band based on their abilities in the school's music program. Do this for everyone in that grade! They've all been hand-picked! Let's get your numbers up! (A large young group will eventually become a large veteran group!)
If you work in the school district you will hopefully see a lot of your group's students as well, let them spread a rumor or two. Tell them you might be using a huge prop this year, or that someone is going to roll a gong all around the field in the show. If nothing else, it'll spread awareness of the season and might bring more people to your first meeting to hear about this crazy gong idea. Now, at the meeting, it's your time to hook them! Create a presentation with pictures if possible. Show them the uniform ideas, the prop ideas, play the music for them (I was always the most excited for the music), and then tell them about the trips and season goals. The opening meeting is all about generating excitement for the membership and answering questions from the parents and students as well. See, you're not done recruiting yet, this meeting is also another tool to spark more interest.
Next, some groups hold auditions. Other groups take everyone that joins. Either way, you need to decide who is good at what. Wind players may already have their music, you can sometimes hand that out at the first meeting! If they're excited they'll start learning it immediately. Percussionists might not be able to start learning show music until you tell everyone what section of the battery or pit they'll be in. This audition and placement process needs to be as efficient as possible. Give them a rudiment sheet, a section of show music, and a warmup or two. These things will be their focus to show you what they're made of.
Don't give them too much, or you might spread them too thin (especially the younger ones). If they've never played drums before consider if they'll need to gain some experience in the pit for a season without having to march around the field. You also need to consider if you want to put all your strongest players on snare or tenor (or bass), or if you'd prefer a more balanced drumline. Having a strong snareline and weaker tenor and bass sections means the demand of what they're playing will be very high in contrast. If you have a balanced drumline it'll be less contrast but probably won't have anyone playing inverted cheeses as a section. But hey, that's okay! Judges don't have an 'inverted cheese' checkbox on their sheets, so if the drumline keeps time and plays together things will be good!
3. Establish a technique framework for the performers. And if you haven't yet, set the line!
Are you still auditioning? We gotta wrap this up! It's a good idea to introduce your technique outlook during or immediately after auditions. If you introduce it during auditions you might negatively affect the student's audition performance since they may be thinking about a new technique idea you've just introduced. Introducing the overall technique elements after auditions allows the line to hash through them together without nerves in play. Again, if you don't have an established technique outline I've got you covered! Now, we have to get this drumline set (and band too if you haven't already). The sooner the line is set the sooner they can start learning the relevant music!
Don't forget to have them move with the drums on during this process too. Wearing the drum is sometimes a bit jarring for newer members, so getting used to that early is a plus. On that same note though, take lots of breaks! Don't overcook your drummers right off the bat, you want them to enjoy the activity as much as you do, and I hope that's a lot! Let them have some fun while learning the instruments and that will help condition them to understand what it means to perform the instrument. If they enjoy what they're doing you'll see it in their faces and their performance mode has a head start.
Try to get the performers to have the warmups memorized as quickly as possible. The show music is what they're going to want to focus on at home, so give them a clear goal with the warmups so that the music doesn't dominate their practice time. You'll also want to give them a list of things to start acquiring, like sticks, binders, page protectors, tape, etc. If you don't feel like taking the extra time to make this list I already did it for you!
This is also a good time to lean on the veteran performers to have them help the young ones. Getting information from you is all well and good, but when the young ones get information from their peers, especially the ones they look up to, it'll be a little more meaningful and should give a boost in results! Keep in mind that the veteran performer benefits from this too, they know the drumline (and full band) is only as strong as the weakest link. If the veteran member helps the newbies it will reduce the contrast between ability levels slightly and give the entire ensemble an edge!
4. Finalize the competition schedule and reserve buses. Work with boosters on the trip itinerary.
Back to reality! It's fun to hang out in the fantasy world of your theme or show concept while writing the music or the drill and exploring new ideas and how to implement them. But here we are, back in reality. We need to finalize this competition schedule. By now you've probably seen the circuit's available show list. Some big circuits have multiple competitions in a weekend while smaller circuits may only have a single competition option. For circuits with multiple show sites to choose from see if you can get the provisional attending band list. Many places have tentative signups posted for all drumline and marching band directors to see.
You want to make note of your competition (because you're not directly competing with all the groups in attendance, just your class). Is there a group that's so dominant they're going to beat everyone by ten points? You might want to avoid them early season so that your score isn't 'slotted' and pegged to a lower number. This doesn't always happen, but sometimes judges inadvertently 'leave room' at the top when managing numbers. Perhaps this is just something to be superstitious about. What about a group that you think you'll be super competitive with all season, maybe you want to try to go head-to-head with them as much as possible. Is there a weekend when nobody in your class is competing? Take advantage of this by choosing a show site that you think you can pop a big number, way above the other classes! You may also have to decide what's more important a long camp weekend of rehearsals where tons of progress can be made, or a show site that doesn't have direct competition but allows for a low-pressure 'practice' show.
Speaking of low-pressure performances, if your school has a football team you need to try to perform at halftime for all their Friday home games! These performances should be in uniform and allow you to get a free exhibition run of the show with literally no pressure. The fans are usually keen to get a hot dog during halftime, so the pressure is turned completely off! Best still, these exhibitions on Friday are literally a day before the real deal. This means that any changes made this week can be demonstrated the day prior to being judged, and you'll usually have a Saturday rehearsal to polish anything sticking out in the halftime run-through.
Buses, bands need buses, and sometimes a lot of them. Most school districts have software or a website to log in and reserve school buses for extracurricular activities. Do this as soon as you're confident about the show schedule so that there aren't any surprises on show day! Don't forget to give yourself plenty of flex time during travel in case there's traffic or problems loading, etc. The last thing you want is for your students to be flustered while rushing to the stadium directly from the buses to perform on time. We've all been there, it doesn't bode well for your score!
Independent groups will have a harder time with this step sometimes, you'll need to rent a bus service and make sure they're reliable. Set an exact pickup point and be sure to tell them to be there at 2:50 pm if you want them to be there at 3:00 pm. Lastly, check on the status of the buses regularly to make sure nothing changed, or if it did change that things are updated properly. Out of all my years of directing, the buses and travel time were one of my biggest stress factors! See if you can designate someone on your staff to help keep this all in check. This whole checklist should be run by multiple people, not just you!
If you're planning a big trip to an out-of-state competition or regional event you'll need to plan an entire itinerary. This is usually where the band booster can help a ton! Tell them the information you know about addresses, times, prelims/finals logistics, and maybe even some ideas for the trip like food and group sightseeing. Then let them run with it. You should hopefully be able to focus more on the music and show aspects of the season and let the trip itinerary be peripheral. Spot-check the itinerary as it's developed and talk about trip logistics at every band booster meeting (along with the home show if applicable).
Leave room for error in the itinerary as well, flex time, etc. It's totally fine to spend a few hours in the hotel if things go smoothly, so don't jam-pack the schedule! Again, you should be mostly concerned with competition logistics, so let them set you up for success around the show, then just enjoy the trip as the booster run it! If you perform at finals on Saturday night then your trip was already a success and your stress level should go down from there. You don't need to worry about the bridge construction on the way to sightseeing!
5. Write the drill as your group's membership numbers become solid.
The early season audition process is complete, the members have the early show memorized, it's time to learn the drill you wrote! But first, you need to write it! Don't get behind on this step, things will happen fast. You should already have an idea of what the drill will be doing while you're writing or choosing the music. You don't know the drumline or band's exact numbers yet, but you should have ideas in your head still, and preferably on paper. The second your group's numbers are clear you need to get the drill process officially started!
If you're writing the drill you can start to assign drill numbers to the members specifically, maybe even keep the talkative ones apart from each other. If someone else is writing the drill, make sure they have the updated music recordings (you should record your run-throughs in the lot as soon as possible so that the drill doesn't miss a change you made a month ago). Make sure to submit your chicken-scratch ideas to the drill writer to keep the overall plan in place.
Keep in mind that membership often changes, some students quit, some get hurt, and others might have a wedding to go to on your second competition date! This is all good info to remember when writing the drill, try to leave room for issues like this. If you're creating long flowing arcs these issues can be absorbed by sliding everyone in toward the center by a space. If you're doing some box drill or grids you may need a backup plan or two throughout the season. You do NOT want to march with holes at a competition, they're distracting and visual judges will either call them out or just see overall spacing issues caused by a hole. Does this mean you need to spend the entire second week of competitions closing that one hole on the field? Probably not, but can you write that person on the ends of the forms as much as possible? Yes, that's much more achievable and realistic.
Now, if someone quits the day before a show, well tough luck, you might be spending some rehearsal time Saturday closing some key spots on the field. Again, you need to decide what's more important here, closing a single hole throughout the show or fixing the front-to-back timing issue that keeps happening. Be smart about what you fix, not everything is weighted the same! And frankly, not everything needs to be fixed early competition season, judges don't expect you to be perfect off the bat. If you stand still while playing the entire closer you'll have a judge note the improvements if they see you again next week. Now, do you want to stand still and play music for a few minutes or just cut the show that much shorter and end on song three instead of song four? Again, an executive decision that you need to decide.
Remember, what are our goals for the season? We made those goals for a reason, so what decision makes the most sense in regard to those season-long targets? Trust yourself and be confident with your decisions. Don't go back and forth, take a moment to think hard about it and stick to your decision. You know what you're doing, you got this!
6. Full music ensemble rehearsals as soon as possible! Get this music memorized too!
Remember as you read through this checklist that we're talking about competition season and traffic during out-of-state trips, but these are all future planning things. Even at checklist item #6 we're still way back at early-season stuff! Ideally, this step takes place as soon as each section of the band can play through a song or two in full. Yea, this is like week two of the season! But now, keep in mind that each step can be expanded through the season as well, so here we'll be talking about memorizing music, but as the season progresses we can still talk about memorizing music toward the end of the season when things like changes are made or wrong pitches are discovered! So this checklist can also be used as a re-checklist too! Revisit these things a few times throughout the season, it might even help you remember something you forgot to do early on in the season!
The first full ensemble rehearsal is special, it's probably my favorite part of the season! Hearing the music altogether, the atmosphere of full ensemble rehearsal etiquette, and learning the true potential of the show and performers! It's so much fun to be a part of, and standing right in the wind arc is the best seat in the house! Now, this also comes with several potential challenges as well, so don't put your feet up yet. For the very first full ensemble rehearsal, you'll need to remind them of rehearsal etiquette and teach them that full ensemble etiquette is the most important. Now is also the time to teach the band how to listen back to the drumline for tempo, up until now they've been (hopefully) listening back to a metronome, but the drumline can be way different!
While you should still be using a metronome through the entire first ensemble rehearsal, it can be quite distracting for wind players to now hear a drumline between them and the met. This is a good time to for them to get comfortable relying on the drumline and letting the drumline listen back to the metronome. That's way easier said than done! First, the winds need to start to understand the drumline's parts, they aren't just playing quarter notes back there. So the clarinet section is going to have to have some understanding of where the downbeat is after a triplet double-stroke roll. The metronome will help translate that for now, but soon we need to take the metronome away so it isn't a crutch. That will all certainly come with time.
As the season progresses, don't lose sight of the importance of an ensemble music arc. Some of the tempo issues you're having might just be because the winds don't understand a drumline musical change yet. You could even do the ensemble music arc while standing in the drill set on the field once we know the drill. This will also help us work through the different listening situations on the field, the drumline isn't always going to be directly behind the tubas! Once again, these things can all go on the whiteboard as goals for rehearsal.
7. Learn chunks of the drill and review the music on the move.
If we've done everything in chronological order from this checklist so far we should be about 2-3 weeks into rehearsals. Maybe even sooner depending on the band size or ability level. If your group is absolutely nailing ensemble rehearsal they need to be on the field learning drill the next day! It's also alright if the drumline doesn't learn drill with them right away, the drumline can learn the drill at their own pace since they're probably still working on memorizing the music (remember we set the line later for the drumline than the winds). Keep in mind that the drumline is also sometimes learning an entirely new instrument, unlike Johnny who's been playing the same trumpet since 4th grade. Playing a marching bass drum is not the same as playing percussion in school, it's similar, but definitely takes a lot to get used to it!
As the band or drumline chunks through the new drill make sure they know how it fits with the music right away. They should be learning the drill with their music binders in hand to reference the music. Sing the part each time while moving, loud and proud! Once a phrase or two of drill is learned it's time to grab the instruments! Play a set in place, then play it on the move. Don't neglect marching technique as well as playing technique here. If they learn the drill with improper technique then it will stick! The same goes for learning music too, you don't want to have to take time and undo bad habits, take the time to learn everything with good habits! Repeat the phrase with the drill a few extra times, then push into the next phrase.
Once we get really comfortable learning drill we should be able to learn the drill with the instruments in hand. Learn a phrase and play it without having to run to the sideline to pick up the instruments. By the end of the season, we'll need to be able to make changes to the drill on the fly, so learn those skills now and the band will thrive on those good habits later. Once a full song is learned with the drill go back to play and move a quarter of it, then stop to think about what comes next. Play and move the second quarter of the tune and stop again. Give them time to think and check sets as you progress through the song like this until you get through it all. Then, finally, go back and run the chart! This is the way each song should be learned and retained. Small chunks, big chunks, whole song.
8. Get most of the show on the field, then push for more until complete.
This step is the most generic step, and also the biggest chunk of time during the season. We're trying to thread a needle here because we want the show to be as complete as possible before we start competing, but we also don't want to rush through and spread everyone too thin. If you start adding bodywork and big developed visual moments into a show too early, you may be sacrificing the music. If you push through the entire show from top to bottom before the first competition, you may have weak spots throughout the show that wouldn't be as weak if you didn't perform the last song at the first competition.
These are just things to consider since each ensemble is different and some groups are ready for bodywork right away while holding their own on the music, and some just aren't. The idea here though is that it's a marathon, not a sprint. The endpoint of the season is at championships, so work your goals steadily toward that date. However, we also have to be realistic in that you want feedback from the judges right away on as much material as possible. You also know that judges will note improvements if you see them multiple times throughout the season. That being said, you'll have a choice to make (and a different choice for each show element) about what is more important.
The judges will note improvements whether you come out with a completed show or not. Effect judges may not be able to give you credit for certain things early season if you hold back though. Again, all choices you need to think about during this large chunk of the season, between learning drill and competing at the first show. Heck, maybe you don't even go to the first competition! Take another week to prepare and come out stronger in week two. These are all ideas that groups have utilized in the past and will continue to do so in the future. You might even come up with a combination of these ideas where perhaps the drumline doesn't play the last tune, or maybe they play it in place while the band moves around the field. Sometimes you'll need to get clever!
Best of all though, after the competition, you'll be able to talk to the judges and discuss some of these things with them. Are the things you're doing on the field coming across the way they were intended? Are there major design flaws within a caption that are being missed? Is it worth adding more show elements before dissecting and fixing others? Some of these answers will come while listening to the judges' feedback on their recordings, others you can ask them directly at critique. Gain as much information as possible to make the best decisions for your group here. Try to avoid snap decisions from the heart and instead employ your head. What will bring the group the most success? Use that information the next week and revisit the questions you have once more. This is all part of the process of becoming complete!
Finally, once you are complete it's time to rep, rep, rep. Repetitions will highlight consistencies. As you push to the final weeks of the season you'll need to decide when to stop making changes and just polish instead. I used to have a rule of no changes in the last week. Take what's there and only clean it up. Obviously, you want to be cleaning throughout the season, but implementing changes at the end of a season will negatively affect clarity and sometimes your numbers depend solely on music and visual clarity! We'll revisit this more on step #10.
9. Home show logistics!
So you signed up to host a show? Well, I hope you're prepared! This is going to be the real bread and butter of this article since home show logistics can be a nightmare and planning out each home show can be the most stressful part of the season for a drumline or marching band director. This step will be broken down into a handful of secondary steps. Here is what's involved with preparing for a home show:
Apply for a few dates with the circuit (make sure your building is available).
Lock in the date with the building or school. You need the whole place to yourself!
Make maps and plan the exterior and interior movement.
Get a list of rooms needed and room numbers (make sure they're on your maps).
Update the boosters and designate things for team members.
Send required information to the circuit, including maps and addresses.
Create a home show program.
Plan the concession booth!
Find an announcer, an EMT, and a bunch of volunteers!
Get Trophies and Awards
Set up the show site the night before if possible.
Be available for last-minute adjustments and work with the chief judge.
Try to be with your ensemble to perform!
Help organize the judges' critique
Clean up the show site before your team leaves.
If this is your group's first year hosting a marching band or indoor percussion show, you'll want to make sure you apply with all the correct information to the circuit. If your school has hosted a show in the past it's likely that all this information will be on file, but you'll still need to apply each season as a show host. Normally applying requires taking measurements (especially indoor shows) for the performance area, door widths, etc. You'll want to have a few dates available when you apply, so coordinate that with the building manager to make sure the building isn't needed for something else that day, or already signed out to a different event.
If the circuit accepts your submission and grants you a date you'll need to confirm again with the building manager to make sure they know the correct date is set in stone! Again, you'll need the entire building to yourself, for indoor our outdoor shows. Indoor shows will require the use of the entire main level of the building since percussion equipment isn't easy to move up and down elevators. For outdoor shows, you'll still need to plan for a rain event which may require the show to move indoors. The best part of hosting both outdoor AND indoor shows is that the maps for the indoor show can be used for when an outdoor show gets put inside due to rain!
Next, you'll need a map of the outdoor campus with labeled parking and warmup areas. For indoor shows, you'll also need an interior map of the building as well as a gym floor diagram. For the indoor show, you'll need the campus parking map to show where spectators park, equipment is unloaded, buses are unloaded, handicapped parking and entrances are located, and where the buses and trucks can park during the show. Your interior maps need to label each classroom that will be used by the visiting ensembles, the warmup areas, and the pathway to get around the building smoothly. Note that indoor drumlines and pits move around like huge trains in a hallway, slowly and awkwardly. Make sure there will be no trainwrecks! Plan accordingly.
You'll want to also get a list of the classrooms available to let the ensembles use. The best way to get this map and get the room numbers all at once is to find a fire escape map. Usually, the school has this digitally, but in the worst-case scenario, you can just take a picture of one that's in the hallway! Plan on making a list of all the available classrooms and write down which ensemble should go in which room. Sometimes ensembles are allowed to use two adjacent rooms, while other times they just use one. If you have two wings of classrooms available, try to alternate between wings using the performance order so that traveling through the hallway is a little more spread out. When you ultimately send your maps to the circuit's other indoor or marching band directors attending your show, including a list of room numbers with the ensemble names so they can plan their route before seeing everything in person!
After this legwork is done you're going to need some help. If you haven't already, start bringing up the home show at booster meetings and talk about planning and checklists as early as possible! You'll need a few team members to help you out since you're also presumably still trying to teach your ensemble in the middle of everything. Someone will need to be in charge of setting up the school, someone can be in charge of programs, and you'll need someone to contact the EMT and resource officers, order trophies, and a liaison for the judges. Start to brainstorm ways to get some volunteers too!
Once you have your paperwork sorted out with maps, classrooms, building flow, gym measurements, and directions (and anything related to outdoor shows like prop storage, bus parking, etc), you can send it to the circuit to distribute to the visiting ensembles. This is usually done 2-3 weeks in advance, so make sure to proofread everything and walk the building one more time just in case! LOOK IN THE CLASSROOMS! Make sure you didn't accidentally give a group a closet, or worse, a computer lab that you can't move the tables out of the way! You should also try to avoid using technology department rooms because there is usually machinery in them. You just want some boring classrooms for everyone! Double-check the building's address and make sure that's included too!
You should already be planning out a home show program since you designated a team member for this specifically at the last booster meeting. It's usually a fun idea to let a student design the cover, but you'll need to include the show write-ups for the competing ensembles, a welcome letter, and hopefully a whole bunch of ads! Most groups use their home show to make money, so use your students to fundraise their dues and sell program ad space for a good chunk of money! A percentage of the ad space sold would go to the student who sold it and the rest would go toward printing the programs and back to the boosters' savings account to support the ensemble. Make sure you print enough programs because you don't want to sell out (if you sell out it means you could've made more money on them). Ideally, you'll want to sell them for as cheap as possible and only have a few left over at the end of the event. See if you can figure out how many they printed last year, compare the number of groups in attendance, and how many they sold. This is all great info to keep track of for next season! Now, just find a local print shop to make them at a great price and have them ready to go on show day.
With all the people involved with this home show, someone needs to know an announcer or a friend that is willing to be the MC for the show. Announcing is a show isn't too tricky, but if you make them a script it's even easier! Most circuits will require the announcer to say the exact same thing for each group, so this should help if someone is a bit hesitant. If you really can't find someone try telling the students that if a parent volunteers you'll put a good amount of money toward their dues. You'll also need to reserve an EMT and a resource officer to be on campus for the event (sometimes more than one depending on the event size). Now is also the time to solidify as many volunteers as possible for the show day setup and the event itself. Go back to that list you started and get in touch with people everyone has been mentioning. Schools have clubs that need community service hours, so this will definitely count toward that! 4H clubs and Honor Societies are great places to start.
Speaking of volunteers, we need people to handle the concessions! Show concessions is probably the best money-maker in all of marching band and indoor drumline! It's simple, buy a bunch of local pizzas (make sure to warn them that you'll be doing this in advance). See if the pizza joint will give you a discount for including a free ad in the program! Sell each slice for a few bucks, and discount the price halfway through the show. Canned soda, snacks, baked goods, and anything else people want to serve is a good idea.
Depending on the circuit you may have to provide your own trophies for the show. The circuit will always tell you what types of trophies you need, along with the quantity. You can take that list to a local trophy shop and get a good deal, maybe they'll give you a discount for a free ad in the program! Remind them that you need the ensemble name plates separate since you obviously won't know places until the contest is over. Arrange to pick up a week before the show if possible, don't leave this one up to chance on timing.
Alright, it's time for the big one: show set up at the school. For indoor events, you should try to get in the school the evening prior to set up everything without being in a major rush. Bring the circuit checklist if they provide one and keep a list of things that you think of as you go too. Each building will be different, but that's why you have your maps! Label each classroom with the visiting ensemble name. Put up TONS of bright posterboards with arrows directing the flow of traffic around the inside of the building. Clearly, label warmup rooms A, B, and C. Outside you'll do the same thing (this might need to wait until tomorrow). Big signage for the different parking areas, trucks, buses, spectators, and handicapped parking. More big bright posterboard arrows for spectators to follow to the gym or bleachers. Label the judges' room and make sure they have some food from concessions available. Tape off the judges' area in the bleachers and a spot for video. Tape the gym's centerline for timing and flow. Test the PA and microphone for the announcer. Make double sure there is a power cable at the front and rear of the performance area! You'll also need a table for ensemble check-in with a packet of info for each group (schedule, more maps, classroom assignments, etc). You'll also want them to sign a form saying they'll clean up their classroom before they leave. Then leave a ton of extra blank posterboards just in case you need more signage as the ensembles begin to arrive on show day.
Before the show starts you'll want to walk the building or campus again to make sure nothing is wrong or out of place. Have a few volunteers walk with you at all times to use as gophers (go get me this, go hang this sign here). When the chief judge arrives you'll work with him as he does his inspections of the performance arena and surrounding areas.
Did you remember that you still have an ensemble performing at the show today?! Hopefully, you've designated an assistant director to help with them as much as possible. Sadly, it's probably more important that you work with the show setup and chief judge than with your ensemble for the day. If this is your 8th or 9th home show, you're probably more comfortable with the boosters handling show setup. But, until you're totally comfortable, stick with the show setup team, even if they tell you they can do it. Your name is on the program and you'll be hearing about every little thing that went wrong. This has happened to me! Don't let people tell you they can handle it. You handle it. Be certain of success, not just hopeful! However, when it's your group's time to actually perform, please do be with them for support, they look up to you as a leader, they still need that calm leadership before this performance too! When your performance is complete, hang out near the arena and make yourself available to ensembles that may be having technical issues or difficulty moving through the building. Be ready to help them all.
After the show is complete, you'll want to help the chief judge prepare for critique. This is another area that should be clearly labeled on the map and in the building on big bright posters. You'll need a waiting area and a critique area in a decent-sized room. Take some time and listen to the judges' tapes for your group and prepare your questions for them. Now is the time to be with your staff and talk about the performance. Sit down, and take a load off while you wait. Most times you'll be the last one to critique since most places take travel distance into account when deciding on critique order. Try to relax and eat something finally!
The last thing you'll want to do before everyone leaves is to make sure the building has been cleaned up. During critique is a good time for your volunteers to start walking around and taking down signs, labels, and tape (once the bleachers have cleared out from the awards ceremony). Each classroom should be inspected by the boosters to ensure that nothing was left messy, damaged, or stolen. If you talk to other drumline or marching band directors while waiting for critique, ask them how their experience was, see if they think anything could be improved. You should still have your notepad on you, write down any ideas or improvements for next season! Make sure to thank everyone for coming to your show, and thank the boosters and volunteers for all their hard work today! Walk through the building once more, thank the custodial staff, and you can be the last one to leave for the day.
10. Smart changes to the show, decide what's important and worthy of rehearsal time.
Let's revisit the season since we should now be within our competitive portion toward the end. First of all, did you accomplish your goals so far? Have your rehearsal goals been achievable? If not, did you adjust your expectations accordingly and set more realistic goals each time? This should be true for the students as well as the staff, realistic goals will help build confidence on both sides of the equation! Not only that, but your ensemble will just be better because of it too.
As you progressed through the pre-competition season, did you make smart changes to the show or did things just fall into place due to good planning? If changes became clunky you'll want to retain that information for this later part of the season, when you're deciding if something is worth changing or not. Smart changes aren't just based on content, they're also based on the performer's ability to adapt to them without sacrificing other elements of the show.
These smart changes will also be based on something called opportunity cost. If you're taking time out of rehearsal to change something (then polishing it so it doesn't look 'changed') you COULD be doing something else to clean a phrase or fix something else altogether. Rehearsal time is limited and the need for show changes might be outweighed by the need for reps to just smooth out the part. So, does it even need to change? Is changing something easier than just fixing it? Once more, decisions for you to make.
During the final few weeks, the pendulum shifts more toward cleaning and repetition. Changes aren't as worthwhile as just polishing the material you already know. Remember the conversations you had with the judges early on, because this information has changed slightly. At your first competition the judges were not looking for clarity, they were looking for intent and big-picture considerations. Now, at championships, the judges are looking for clarity!
You should be utilizing the information gathered along the way, but remember to focus in as your move forward in time. While you may have fixed something important for the big picture to work correctly in the show, the hands of time move ever forward! Judges may note improvements as they see them, but each week you'll be put under a more powerful microscope until each little thing may catch the judges' attention by championships. Don't let this scare you though, you'll also get more and more credit for things you're doing well each week too!
By championships, you should have a totally polished show, and all the patchwork you made along the way should be smoothed out completely, with no rough spots! Keep this in mind as you decide to make changes later in the season, if it's worth polishing, keep it, but if something ain't working it needs to change!
---
Hopefully, this checklist can help you fine-tune your marching band or drumline season! There are obviously way more nuances than what's covered here, but for a big-picture, this list can help keep you on track. You're probably not going to print this out and hold onto it at every practice, but if you take a few notes as you read they might come in handy, or help you remember something important along the way. The most important thing of all though is to learn from this current season and bring that information into the next one! You aren't just getting new members each season, you're also getting a new perspective. Don't lose sight of that, experience is your most valuable asset!