Terre Hill, Woodard, New York State: Surrounding History & Exploration
An essay by Patrick R. F. Blakley
Ok, it's been a while since I posted anything here, but it's with good reason! I've recently just completed a 17,500+ word research paper focused on the Terre Hill area of Woodard, NY inside the town of Clay. This is not at all drum related, though I did sneak in a marching band fact with historical relevance. I don't blame you if you just scroll past this one, but if you're in the area you might feel a little compelled to check it out! I've also included a family tree as well as some family ties to Terre Hill. Primarily family names that were focused on such as Blakley, Postle, and Relyea, with ties to the family names of Teska, and Weller. If any of this interests you please check out some of the following links with much more information: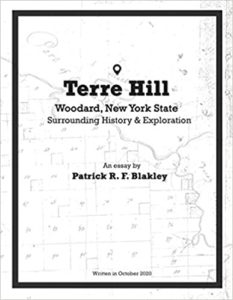 Download the full paper here:
https://patrickrfblakley.com/pdf/TerreHill.pdf
Buy a printed copy here:
https://www.lulu.com/en/us/shop/patrick-r-f-blakley/terre-hill-woodard-new-york-state/paperback/product-vqp2d6.html
Also available on Amazon.com:
https://www.amazon.com/Terre-Hill-Woodard-York-State
Check out the related maps and some research material:
https://patrickrfblakley.com/terrehill
Blakley Family Tree Info:
https://www.ancestry.com/family-tree/tree/78268943?cfpid=36386609705&dtid=100
Related geocache with good descriptive info:
https://www.geocaching.com/geocache/GC5C2YW_terre-hill-cache
Be sure to check out some interesting references in the bibliography as well, dive in a little deeper!
Now back to your regularly scheduled programming…
.