Alright, before you make fun of this article for being about an app with a blurry logo image and a ton of one-star reviews, hear me out. This app is actually pretty cool, and with a bit of know-how can be very useful (especially if you've read the last few articles about using your smartphone as a metronome and then hooking it up wirelessly to the Long Ranger. This article is going to piggyback on both of them and show you how to speak into your phone and broadcast it through the Long Ranger via Bluetooth.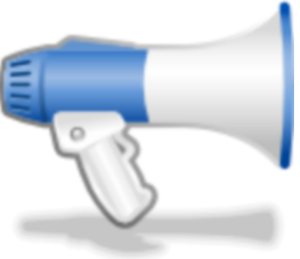 There are some issues with the app, but it has a lot of potential, and I imagine that's why people are so eager to jump to rate it one-star, but if you follow these steps you'll get your app working as intended and with a bit of practice you can make sure to minimize the problem areas that other users are frequently experiencing. Until a better app comes to the market, this app is the best possible way of being able to speak directly out of the speaker wirelessly. The app is simply called "Megaphone" by RubberBigPepper.
To start just download the free app and make sure your phone is connected, through Bluetooth, to the Long Ranger or speaker of choice (this is covered in the previous article called "Wireless Long Ranger Metronome". Now heads up, if you open the app and push the megaphone button without being connected to a Bluetooth speaker you're phone will start to echo and feedback! Again, this is partly why so many people rate it one-star, but the developer might soon think to disable the app unless it's connected to something (and splash a warning screen to the user explaining this). You'll also have issues with echo and feedback if you're standing too close to the speaker, though it wont be as bad you'll definitely hear it. The ideal use for this app is when the speaker is aiming AWAY from you, and toward the students. For example, if the talkback Long Ranger / speaker is in the front of the field for giving direction from the people up top you'll be far enough away to minimize the echo as well as having the speaker facing away from you. If the Long Ranger is behind the drumline and you use the megaphone from the front of the field you may be out of range, but if not you might be alright using the megaphone as well. If you're not too far away, and the speaker is at the back, you'll be able to do the trifecta: Use your tablet or smartphone for sheet music, use a Bluetooth metronome, and also use the Megaphone app to give instruction. And hey, on break you can play music through the Long Ranger too, so "quad-fecta"? Whatever you call it, it wouldn't be a bad idea to stretch to music either, so not a bad idea.
So if you're on the technology train to band rehearsal you should definitely check this one out. It fits your budget and will turn heads as you talk to your students through your phone!