Drumline? Band? What's the problem?
Well, you found it. You typed in the URL or you searched for some negative words and ended up here. MarchingBad.com? Dumbcorps.com? Dumbline.com? Dumbset.com? Come on! Luckily, I thought of these first and intercepted you. Maybe you did it by accident, or perhaps you were just curious if this page even existed. You might have done it ironically, and if that's the case please move along. In any case, if you think marching band, drum corps, drumline, or drumset is bad or dumb, you should probably try to read through this article as far as you can make it. Maybe you can be persuaded. Maybe not. This activity isn't for everyone, but if you'd better understand it you might be less intolerant!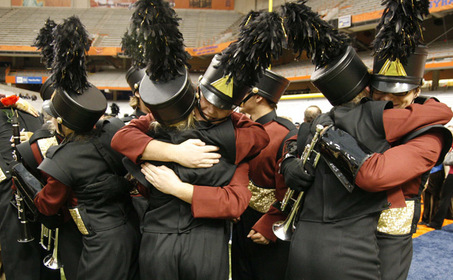 Marching Bad Band
Is marching band a sport? Well, it doesn't matter. This activity is one of the most popular activities in school. With sometimes well over 100+ students on the team, the marching arts activity is also one of the biggest clubs there is! Now, is that important? Well, considering that there is no bench in the marching band, each and every person on the field has to perform both musically and visually. Concentrating on two things at once is the minimum requirement to perform in the band, and that ain't easy by itself! Everyone in the audience, as well as their grandma, knows if someone in the band is out of step with the rest of the members around them. So being able to even move your feet in time is not necessarily simple. Then think about the forms the band makes on the field. Picture yourself in a form between two other band members, now keep in mind you're not always going to be next to the same two people every form. Now you need to remember where you personally have to go on the field AND keep your feet in time. We haven't even talked about the music yet! Alright, let's add another layer: You've learned how to play and move around the field without being an eye-sore or an ear-sore. The next thing you'll do is travel to a competition. Marching band competitions can see thousands upon thousands of performers and audience members on-site, these shows are HUGE! That's a lot of pressure already, and most bands stay by the field to watch the rest of the show when they've finished performing, so you're also usually performing for your peers! But if that isn't enough pressure yet, consider the judging panel. 7-10+ judges examining your every move for mistakes or inconsistencies. Some of these judges are even walking around ON THE FIELD with you! Talk about nerves! Even in a sea of a hundred band members, you can still get singled out by a field judge as you perform your show.

So is this what you expected? No there's usually no contact (unless something goes very wrong), but there are things like 'plays' since the whole show is basically a playbook. There's a strategy too, deciding what music difficulty to play, how fast the movement should be on the field, what competitions to go to (to compete with specific bands and classes), and even the show design itself. None of these things are easily changed since most of it is set at the beginning of the season, and music and drill rewrites take a lot of time to change too. Let's see, there's even a section of the band that's similar to cheerleaders, though colorguard members would be absolutely livid if they knew we were making that comparison, so you didn't hear that here! Anyway, does that help at all? There's obviously more to it than most people think! Just keep that in mind the next time you watch a band! If you're more interested now you can get more info about marching band here.
Dumb Drum Corps
Let's say that you just LOVE marching band in high school, but what are you going to do when you graduate? College marching band you say? Yea, why not! College marching bands have a lot to offer students who aren't quite ready to leave the performance field yet. A more professional atmosphere and higher quality membership in general (since most colleges require members to audition and many actually study music at the school too). But something is definitely missing here. Oh yea, competitions! College marching bands tend to follow the football team around and perform at halftime shows, what happens if someone just NEEDS to get ranked and rated by judges in a competition? Enter drum and bugle corps! Drum and bugle corps, or more often shortened to drum corps, is sometimes referred to as marching music's major league. Corps consist of members that perform brass, percussion, and colorguard, there are no woodwinds in drum corps (yet). Drum corps is typically broken down into two main associations: Drum Corps International (DCI) and Drum Corps Associates (DCA). DCI corps have members ranging from around 18 years old up to 21 years old, this is why it is also called 'Junior Corps.' DCA is an all-age organization and is sometimes called 'Senior Corps.' Any DCI member that turns 22 prior to June 1st is ineligible and considered 'aged out.' Aging out of DCI is similar to graduating high school or college. If you thought college marching band was the pinnacle of the activity you'd be quite wrong! Division I drum corps are pushing the activity forward and innovating the marching music scene is new ways every year. Most top 10 drum corps have hundreds of people auditioning for just a few open spots in the corps. The biggest difference between something like the MLB and DCI is that the members are not paid, in fact, the members have to pay thousands of dollars in dues to be eligible to march with the corps. This should tell you all you need to know about the quality of the corps. When you have top tier musicians auditioning willing to pay thousands of dollars you know you're getting the best! Drum corps members move-in with the corps around May and begin to travel the country on tour to perform and compete against other national corps. Members will live on buses and sleep on gym floors between practicing 12-14 hours per day! Drum corps is a different world! You can learn a little more about drum and bugle corps at the marching pages here.
Dumbline Drumline
Drumline is the group of percussionists that march on the field playing snare drums, tenor drums, bass drums, and sometimes cymbals. But did you know there's an entire world of indoor drumline without the marching band at all?! This activity is called Indoor Drumline, or Indoor Percussion, and sometimes even Percussive Theater. Rather than performing on a football field, indoor drumlines perform in a gym. Groups usually transform the gym floor into a scene using a heavy fabric floor rolled out during their setup time. Some groups even utilize backdrops and props to convey a theme with a designed floor that looks like a set piece in a stage show! Indoor drumlines compete across the country similar to marching bands and drum corps, but the judging is totally based on percussion. This means that drummers can perform and compete year-round, but also means they're constantly learning new difficult music and auditioning (sometimes for several ensembles). Audition processes for drum corps and indoor drumlines is pretty brutal! You have to learn every note and come to the audition with all of the required exercises memorized, and obviously be good at performing them to be accepted in the group. If you don't make your first choice ensemble you'll need to also have memorized all the exercises for your second choice too! Keeping in mind that some groups may only have one or two spots open in your section and you could be competing with several dozen other percussionists, if not more! Keeping in mind that auditions also cost money, and indoor drumlines still have expensive dues that the members pay just like drum corps. The atmosphere is usually pretty friendly because ultimately any of these people could become your teammates, but if you're the last to get cut you may have a hard time learning new music for another ensemble audition in time! With all this being said, there's something that hasn't been mentioned yet. The fact that marching drums are heavy! Snare drums, being the smallest, tend to be the lightest marching drum, but wearing any drum for an extended period of time can have adverse effects on your body and muscles. Tenor drums and bass drums can weigh 40lbs or more (some 32″ bass drums weigh 42lbs)! Remembering that drum corps rehearse for over 12 hours per day during the summer, this should be a big factor in how we look at marching percussionists! Consider too that marching band and drum corps tend to run the drumline at pretty high speeds while playing! In indoor drumline the drummers will also move fast, but will also incorporate way more body moves and choreography into the performance since the shows tend to tell a story or convey a theme. The demand on marching drummers, indoors or out, makes them stand out as some of the strongest athletes in any activity, regardless whether it's considered a sport or not! Learn more about marching percussion here.
Dumbset Drumset
This one doesn't make any sense. Who on earth doesn't think that drumset is the coolest thing ever?! Everyone wants to be a drummer! From air drumming, drumming on your steering wheel, or banging your fingers on your desk at work, everyone is a drummer at heart! Playing the actual drumset is even cooler, and there's a lot more to it than some people might think. Drum set drumming isn't as simple as picking out your favorite colors drumset and putting a kickass logo on the bass drum. In fact, starting with the setup itself is sometimes not as straightforward as you might think! The many different styles of drumming usually require different types of percussion instrumentation or general sizes of drums. Jazz drumsets might use smaller drum sizes in general and sometimes use multiple ride cymbals rather than an assortment of effects cymbals. Jazz setups are often times minimal while rock drumsets can be the exact opposite! Rock and metal drumsets use larger size drums that produce more low-end sound and volume. These setups tend to also exaggerate the cymbal and tom setups to provide more variety and sometimes to be a little showier! Setting up such big drum kits isn't easy, and if you're a seasoned drummer you're used to everything being in the EXACT right place, down to the millimeter. Showing up to practice early is a must when you have to set up your whole kit in time to play. This is one of the drawbacks of drum sets. Big name drummers will have a drum tech who's job is to set up, tune, and maintain the drummer's drumset. Then, at the end of the show, tear it all down and pack it up again. If you're on your own that's all you! Another downside to drumming is the expense of the instruments themselves. If you choose to have fewer drums you're a smart drummer, but if you actually need more sounds you'll be spending hundreds of dollars each time. Drums are not cheap, and drum heads need to be replaced quite often too. A drumstick breaking is the least of your worries! Now, this is all before we even discuss playing the drums. The coordination required is pretty crazy, using all four limbs to play different drums at once. Not only that, but you also need to be super accurate since any one of those four things will put off a listener if it isn't lined up with the rest. Some drummers even learn to add more than four layers to their coordinated drumming, using maybe the right hand to play two drums back and forth creating a fifth layer to a groove. Some styles of drumming require a certain number of simultaneous patterns too, often found in Latin or Afro-Cuban grooves like the Samba, bossa nova, mambo, tango, and plenty more. Most drummers tend to stick with a single style of drumming, but sometimes you'll see someone that has mastered many. If you want to learn even more about drum set check out the drumset page here.
Drumming has so many different caveats that most people probably don't even think about! But the end result of any style of drumming is that many people idolize drummers! This is definitely why audiences everything go bananas for a drum solo, or will involuntarily bang on a table as fast as they can when someone calls for a drum roll! How can you argue with that? Whether in a rock and roll band on a stage, out on a marching band field, or in an indoor drumline, all drumming and bands are worth learning more about. You may not even know if you actually really like marching band, drum corps, drumline, or drumset!